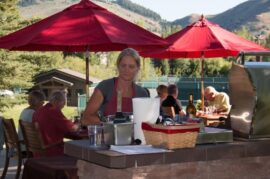 Details
Price
Qty
Grilling Classshow details +
$75.00

(USD)

Goes On Sale




June 7, 2023
August 2, 2023




6:00 pm - 8:00 pm
We are excited to welcome two amazing local chefs to teach our grilling classes.  Jane Peterson and Abby Corea will share their expertise and demonstrate all that you need to know to grill your perfect summer meal. This year all the menus reflect "Chef's Choice". Your evening includes 2 glasses of wine, and a three course dinner – soup or salad, main entrée with accompanying side items and dessert. It all happens on the Harker Patio 6:00PM – 8:00PM.
Today's Menu:
Pesto Grilled Veggie Salad
An assortment of bell peppers, red onion, red potatoes, and green beans tossed in a lite homemade pesto dressing.
Grilled Mushroom Lasagna
Built with grilled mushrooms and seasonal veggies, homemade red sauce, and dressed with a ricotta cheese sauce.
Grilled Watermelon Skewers
Grilled watermelon dressed up in fresh basil and mint, topped with a cayenne infused goat cheese.Served over Abby's
vanilla lime ice cream.
Grilled Watermelon-ade
(A honey rimmed Mason Jar with watermelon-ade and watermelon/basil ice cubes)
Address:
1 Harker Lane
,
Elkhorn in Sun Valley
,
Idaho
,
83353
,
United States
Description:

1 Harker Lane